A short story
of just over 9,000 words, written by
Brian Miller
.
Start Reading
(8 pages)
Download the entire story in Microsoft Word XP format
.
A note from the author:
This story was literally written to music. A long time ago, I decided that
Xploding Plastix
's album,
Amateur Girlfriends Go Proskirt Agents
, was so layered and evocative that I could write a short story completely inspired by what was drifting into my ears. So I sat and listened, and sat and listened, and sat and listened. It took a long time to write and I was constantly unsure of everything. The result, which does not follow the album track-for-track (as I skipped around quite often) but nonetheless takes from each song, is this story.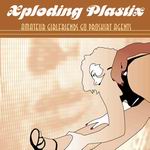 © 2002 medialife.org